H O W A R D A N D E R S O N only recently put a successful advertising career behind to pursue his abiding passion, oil painting, full time. The artist, an award-winning designer/art director for NBC and the Los Angeles Times, left behind a 20-plus year commercial career to explore an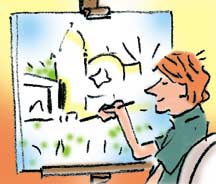 elevated sense of place through his paintings.
For more than a decade Howard was a print art director at NBC, where he was a leading designer of television print advertising, winning numerous industry awards. Prior to NBC, he was with The Times, producing award-winning outdoor, transit, trade and consumer print advertising. Throughout his career, he created illustrations and cartoons at every opportunity and eventually followed that path into painting.
The artist has created rich, colorful depictions of life at California's legendary missions. His first limited edition print "Graduation Day Santa Clara" was published in 1997 and is now followed by three series of seven works each, each painting reflects the historical significance of the structures and their landscape. Meticulous in detail and authentic in their portrayal of the settings the paintings provide a unique and sometimes whimsical view of life in California. Inspirationcame from his own experiences growing up in California and graduating from Santa Clara University (the only university associated with a California mission). The artist traveled extensively, researching each site and exploring the surrounding area. Limited Iris© giclée editions are now available covering all 21 California missions from San Diego to Sonoma .
In addition to completing his California mission series, Howard continues to paint and illustrate. The artist, a native Californian, lives in Glendale with his wife, Kathy and sons, Tim and Casey.

Santa Clara Magazine Winter 2004
---